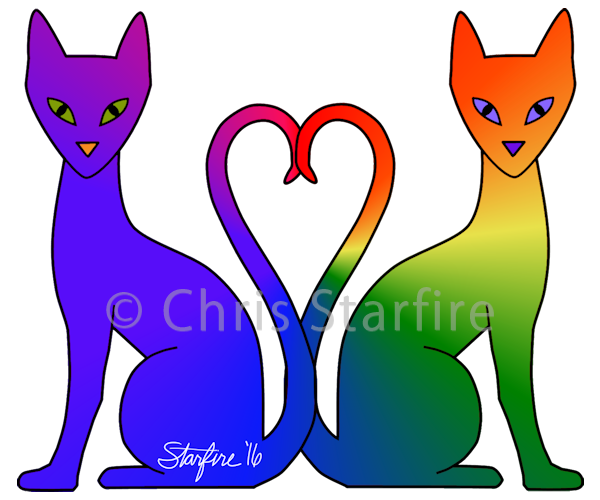 Welcome to Autisticat!

Hullo! I'm Autisticat, Catastrfy, Starfire, ~cats, Chris, and more. I love cats (you're shocked, I know!), creating digital art, rainbows, twirling, gardening, being Autistic, and spreading laughter and joy.
In 2016 I started making Autisticat designs for April's Autistic Acceptance month, including "Autisticat says go #REDinstead", "Autisticat eats puzzle pieces", and more. You can see some of my designs here and see products made from my designs at these spots online:
the Autisticat page on Facebook;
the Autisticat page on Facebook;
the Starfire Studios Redbubble page;
Catastrfy's Button Emporium, where I sell Autisticat buttons as well as many other button designs.
I can also be found at:
My art FB page
(sometimes)Twitter
(sometimes)Autisticat Is Love on twitter
A important note on the name "Autisticat": I've had cat names for going on 50 years now, and when I thought of Autisticat in 2016, I thought it was unique. But I realised very quickly that it's one of those words/names that appeal to a whole lot of folx -- "autisticat", "Autisticat", and many variants are extremely common in the Autistic community. It's a generic term and doesn't (nor shouldn't) "belong" to any one person. So while I'm Autisticat, so are other people. Just like I'm Chris and so are other people.
On the other hand, my artwork is mine and is copyrighted to me. I've had issues with people uploading my Autisticat designs without my permission to t-shirt sites and other places. Teespring is really terrible in that respect and rarely responds to reports of IP infringement. I had to make a report directly to Ebay because Teespring wouldn't stop selling copies of my work on ebay -- even though they hid the same item on their own site.

All original content, art, and photographs on this website are copyright C. Starfire 1996-2018